We've started sourcing parts! Rings supplied and modified by Total Seal, wrist pins from Venolia. Our piston order with Ross Racing Pistons has been finalized and should be ready soon.

Conrods will be supplied by Carrillo. It will take about a month for them to finish the rods. The Carrillo tech confirms that the hemi rod bearing and wristpin sizes will be more than sufficient to handle the expected horsepower.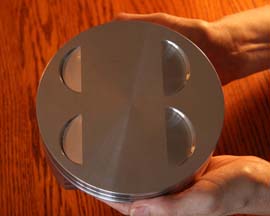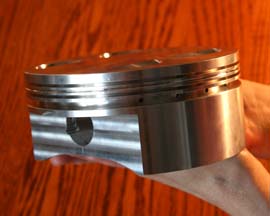 Pistons have arrived from Ross. They look great and are even lighter than expected. We had Ross lighten them internally with extra milling. At 1140g they are about three times heavier than normal V8 or harley pistons but the rods, rod bolts and bearings will be up to the job. With this weight of piston, max rpm of 6000 should be safe.

For a production version of the piston a new forging blank could be made. This would allow for an improved, lighter piston, a narrower, lighter conrod small end, and a shorter, lighter wrist pin, allowing a higher rpm limit, possibly close to 7000. The current piston design will be fine for the purpose of testing the prototype motors.

Received the conrods from Carrillo. Pistons and pins fit properly. Nice work!

Now the 3D CAD model of the crank can be adjusted so that the rods have the correct side clearance.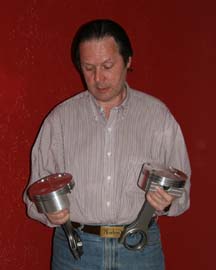 The crankshaft will be the next part to be machined.
Crankshaft designing, modeling, and virtual balancing nearly completed. Many thanks to Graham Martin of Napier, New Zealand, for tons of advice and information on cranks old and new!
Marine Crankshaft is able to do everything required in-house, including machining, smoothing and detailing, heat treating, grinding, shot peening and plasma nitriding. Their other cranks look great and we are confident that we are going to get an excellent product from them. Each 7" diameter 4340 steel crank billet weighs about 150 lb to start and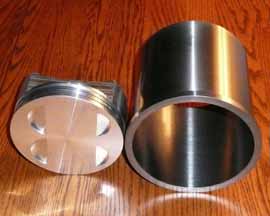 , when machined to final size, will weigh about 25 lb. Each counterweight will weigh from 10 to11 pounds, depending on the balance factor. The counterweight design can be finalized after the cranks arrive.
While waiting for the cranks to show up, cylinder liners and cylinder head/cylinder sealing rings can be ordered. The liners, from LA Sleeve, will be iron, 0.150" wall thickness, and flanged on top to provide enough room for a sealing ring groove. This sealing ring, from Garlock Helicoflex, is tough enough to take the place of a head gasket. It's a hollow metal ring with enough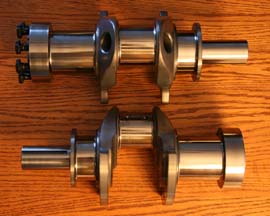 internal pressure to seal against combustion gases after it is squeezed a precise amount as the head is torqued to the cylinder.
Received liners from LA Sleeve. O-ring grooves will be cut after they are pressed into the aluminum cylinders. They look good!
Crankshafts arrived from Marine Crankshaft and look beautiful! They did a top-notch job on radius blending and smoothing. Excellent work! Now the CAD model of the cranks can be changed to match the real cranks as closely as possible. Next, the virtual balancing of the cranks can be accurately completed (using the Alibre Design Motion Module) by changing the models of the counterweights so that they are a little bit heavier than they need to be, to allow for balance hole drilling in the real counterweights.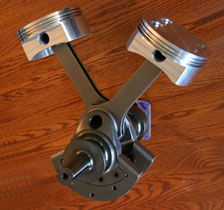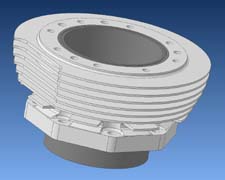 Counterweights have been fabricated by a local machine shop, Foreman CNC, and are nicely finished and as specified. All the major bottom end parts are completed. The crank and counterweight assembly is ready to be sent out for balancing.
Next up will be cylinders made from 6061-T6.